YEAR 1
Mr Hall - Teacher
Mrs Humphrey - TA
Welcome to Year 1 -Japan
Our aim is to ensure a smooth transition from the Foundation Stage to Key Stage One, so although we follow a more structured timetable than Reception, we continue to do much of our learning through practical activities. We are also learning to work more independently.
Learning is fun in Year 1! Every day we use actions, rhymes, songs and stories to introduce and consolidate our learning in the key skills of reading, writing and maths. Phonics is an important part of the Year 1 curriculum so we have daily sessions in smaller groups so that we are well prepared for the statutory Year 1 Phonics Screening Check in June.
We love visitors in Year 1 and are always keen to tell you what we have been learning so you can be sure of a warm welcome anytime.
In science we learn about the seasons, animals, plants and materials which gives us plenty of opportunity to investigate and learn outside. A highlight of every year is our class visit to Longdendale Environmental Centre in the minibus.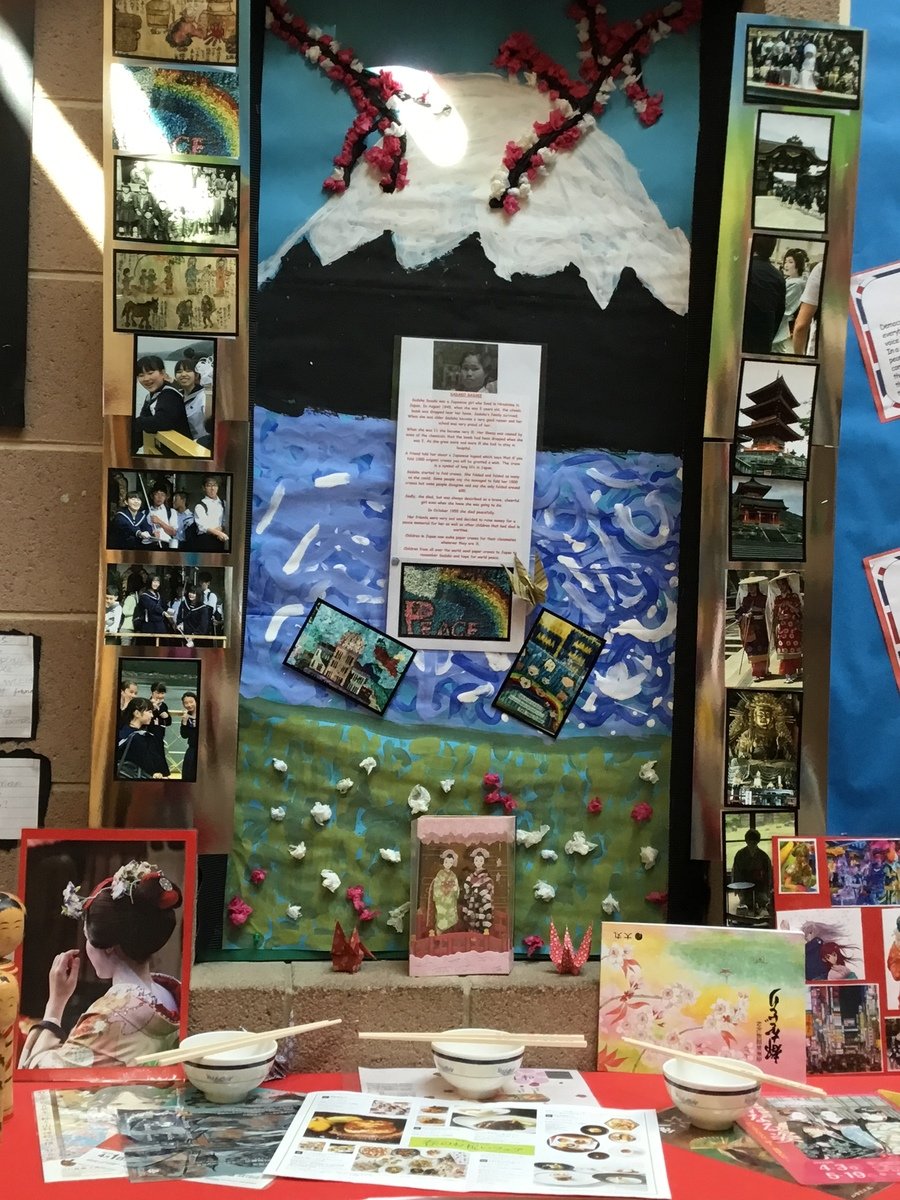 In history and geography we go on walks to Twenty Trees and around the village to practise our fieldwork skills and see how Hayfield has changed. Our topics also include the countries of the United Kingdom, our class country, Japan.
We address other areas of the curriculum such as art, design technology and music through these topics. We go outside as much as possible and really love our Woodland Learning sessions. We do PE twice a week and enjoy sessions with coach Zoey Shaw from Little Learners for much of the year..
How can you help your child at home?
Reading
It is important to remember that children are continuing to develop reading skills all the way through their time at primary school. Therefore, in order to help your child, we ask that you:
Hear your child read at least four times a week and complete their reading diary.

Read a bedtime story to your child every day, regardless of their age.

Talk about what children are reading/listening to in order to strengthen understanding.

Discuss new words and actively aim to increase vocabulary.

Role model a love of literature (books, comics, newspapers, audio books).

Read for a real reason – recipes, building a model, checking the sports results etc.

Visit your local library.
Writing
Help your child practise any spellings sent home from school.

Sit with your child while they complete any grammar homework tasks.

Encourage your child to play with paper and pencils – notepads, diaries, colouring books.

Find opportunities for real writing – shopping lists, letters, posters, labels.
Tuesday 10th September 2019
Dear Parents/Carers
Year 1 – Information for the forthcoming term

Welcome back to the new school year. We are really looking forward to getting to know all your children and helping them to settle into Year 1 so they can have an enjoyable year full of learning and fun! Some of you already know us and we hope the rest of you will introduce yourselves to us in the next few weeks.
Just to clarify the teaching arrangements for this year: Mrs Pinkerton will be in school all day Monday and Tuesday; Mrs Barnard will be in school all day Thursday and Friday; we will alternate teaching every Wednesday morning. Our Teaching Assistant this year is Mrs Humphrey and she will be in class each morning. She will be teaching RE or Art or Design and Technology every Wednesday afternoon to cover our PPA (preparation, planning and assessment time).
Our initial aim is to ensure a smooth transition from the Foundation Stage to Key Stage One. Although the children will be following a more structured timetable than last year, they will continue to do much of their learning through small group activities whilst being gradually introduced to the more formal aspects of education in the key areas of reading, writing and maths.
From now on the children will be following the National Curriculum for Key Stage One. The areas we will be covering up until October half-term are as follows:
English: covering the key skills of:
reading comprehension through class stories and individual and guided reading
writing in the form of labels, lists and simple sentences for a variety of purposes
appreciating pattern and rhyme through reading and reciting poetry
phonics with daily sessions in appropriate ability groups
handwriting through daily practice
Mathematics: we follow the White Rose Maths Hub with an initial focus on:
place value
addition and subtraction
Science: Animals: identifying animal groups. Seasonal changes: autumn changes and weather.
Geography: Learning about our class country – Japan.
Art: Art skills using different media. Our class artist this year is Mondrian.
Music: Singing, playing percussion instruments and listening to a range of music.
PE: Games activities with a focus on teamwork.PE kits need to be in school at all times, with each item named. The children need trainers rather than pumps, please. PE is on Tuesday and Thursday, so please make sure long hair is tied back and earrings are removed on these days.There are just a few more things you need to know about Year 1!
Computing: Keyboarding skills, capturing images and online safety.
PSHE: We follow the framework for character education in schools.
RE: How and why do we celebrate special times? (Harvest and Sukkot).
Reading: Each child will read to an adult at least once a week and books will be changed weekly, usually on Monday or Thursday. The reading diaries have more information about this.
Water bottles: We encourage the children to drink water at appropriate times during the day, so please make sure they have a fresh bottle of water in school each day. Bottles need to be clearly named and have a sports top to avoid spillages.
School bags: just a reminder – we prefer the children to bring flat school bags rather than rucksacks as it is very difficult to fit the bags in the boxes we store them in during the day. The EYFS and Key Stage 1 policy is that everyone can have one flat key ring on their school bag.
Wellies: we do not have room to store wellies in Year 1. When we need them for an outdoor activity we will let you know so the children can bring them in for that day.
Helping in class: extra adult help is always appreciated, particularly with reading, so if you are able to help, either on a regular or one-off basis, please let us know. Anyone helping in school does need full CRB clearance.
Homework: An email is sent home on Friday each week to let you know what you can practise at home to support the English and Maths we are doing in school. This will start next week.
Finally, if you have any concerns or questions, please contact us to arrange a time for us to meet. You can talk to us after school any afternoon apart from Wednesday or put a note in the postbag.
Yours sincerely,
Mrs Barnard/Mrs Pinkerton